The quality control and tests on our bearings
2018-06-20
Bearings are only seemingly simple mechanisms. Their internal structure, a very high sensitivity to the production accuracy, type of materials used, the method of thermo-chemical treatment components, challenges us, what and how should be checked to ensure they are repeatable quality.
There are several steps to test the precision of bearings:

GEOMETRIC TESTS
Shape tests are performed on very precise machines, such as devices for measuring roundness, altimeters (photo 2, 4). Thanks to such tests we can obtain detailed results of measurements and images of ready bearing elements (photo 3).

MATERIAL TESTS
For material tests we are using machines and devices which make it possible to prepare the samples perfectly for the tests, they are cutters and grinders and polishers (photo 5, 6). Whereas for checking the hardness of the material we are using durometers and microdurometers (photo 7).

On the right side in the photo you can see a cut bearing prepared for testing, whereas below you can see photos of elements of a bearing being prepared microstructure analysis. Starting from the left, they are: outer ring, shaft, inner ball truck and ball.
FUNCTIONAL TESTS

Functional tests are performed in many stages. The first stage of the tests is checking the resistance of each element of bearing ( tracks, balls ) to different temperatures and checking the influence of weather conditions on elements of bearing (salt chamber). Next stages of quality control checks are control of vibration of bearing and noise generated during work. Moreover other elements necessary for correct work of each bearing are checked, such as: grease, rubber seals, etc.

Our Range:
Spherical roller bearing
Deep groove ball bearing
Cylindrical roller bearing
Needle roller bearing
Angular contact ball bearing
Tapered roller bearing
Pillow block bearing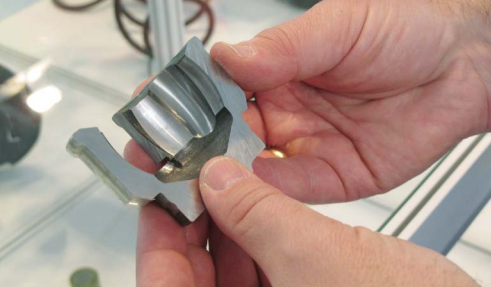 We are Jinan KD bearing company, Which is established in 2000, specilized in manufacturing kinds of bearings. For its sufficient STOCK and favorable PRICES under the supportive of government policy, We have been providing varieties of world-class brands bearings including SKF,FAG, NSK, KOYO, etc with good offers.
Our main bearing products range: deep groove ball bearings, cylindrical rolloer bearing,,spherical roller bearing,angular contact ball bearing,tapered roller bearing , pillow block bearing and housing etc.
If you have demand of bearings with good quality and prices to save the cost, please feel free to contact us, and I beliver it will not a waste of time.
Thanks and Best regards.